RESUMPTION OF PUBLIC MASSES ON 11 JULY 20:
Parishioners are required to book their Mass slots on mycatholic.sg. Please see below.   
Mass Timings
Sat: 0800, 1730hr
Sun: 0700, 0900, 1100, 1300, 1730hr
Weekdays: 1230, 1815hr
Public Holidays: 0800hr
Resumption of Masses @CDM
Masses will resume at our parish Main Church from 11 & 12 July 2020. The Mass times are as follows:
Saturdays   8.00am, 5.30pm
Sundays   7.00am, 9.00am, 11.00am (new), 1.00pm (new), 5.30pm
Monday – Friday   12.30pm (new), 6.15pm
Public Holidays   8.00am
Parishioners are reminded to do the following before heading to church for Mass:
(i) Registration of Parish Exercise
Register for allocation of Masses via myCatholic.sg/register.
Please register with only ONE church during this time.
Registration must be completed before booking of Masses.
(ii) Booking of Masses at myCatholic.sg
CDM Mass bookings will commence from 7 July (Tue) at 12noon. Only parishioners who have booked for the Mass will be allowed to attend Mass. Bookings will close 48 hours before the Mass. Please note that currently the Mass allocation is only one slot per month. Visit our website at www.divinemercy.sg and our social media platforms for full details of the safety guidelines prior to your visit to the church.
Donations
You can contribute towards our parish's operations and our building fund via:
Paynow through your mobile app


Mass Collection: UEN: T08CC4044K
Restricted Building Fund: UEN: T08CC4044KRBF

Cheque


Deposit them at our mailbox near the exit gate or mail to our parish. Make Cheque payable to: Church of Divine Mercy or Church of Divine Mercy Restricted Fund
Registration for 2021 Catechism Sessions
1. Update: Online Catechetical Sessions
Please note that this weekend will be the last session for the term. Sessions will resume online on 24/25 October.
2. Registration For 2021 Catechism Sessions
Registration
 for 2021 Catechism sessions are open. Parents may obtain registration forms via the parish website (
https://tinyurl.com/cdmregister)
 or at the Parish Office. Please email the completed form and a copy of your child's baptism certificate to catechism@divinemercy.sg. You may also submit the completed form to the Parish Office. 
Existing students need not re-register. 
Online Parish Mass
Online Parish Mass
TIME: Every Sun, 8am
WATCH: CDM's YouTube Channel

Online Tagalog Mass
TIME: Every 1st & 3rd Sat, 6pm
WATCH: CDM's YouTube Channel

No Malabar Mass in Phase 2 
For urgent matters, please contact Raymond at 9180 7887.
Chapel (basement) closed - No Private Prayer
Chapel (basement) closed due to Addition and Alteration (A & A) works.
Daily Divine Mercy Devotion
Join us daily at 3pm, the hour of mercy, for the Divine Mercy Devotion and Reflection of St. Faustina's Diary, on CDM YouTube Channel.
The Gospel According to Mark by Msgr. Ambrose Vaz
"This is the beginning of the Good News of Jesus Christ, the Son of God."
Jesus the miracle worker, the suffering servant and resurrected Lord.
Journey with us, and be a witness of Our Saviour Jesus Christ
When 18 Aug – 3 Nov, Every Tuesday, 9.30-11.30am
Fees $50
Session will be conducted via Zoom.
Register at tinyurl.com/y6s748wr
New Logo For Church of Divine Mercy
Divine Mercy Communication team is happy to share the new CDM logo launched in June 2020, in conjunction with the parish's 10th anniversary this year. The new logo is more contemporary and progressive looking as we welcome a new phase of our church's growth.

With a fresh new logo and potential church opening in the near future, we look forward for a more joyous 2nd half of 2020!  
Check out our new logo here !
Click the buttons to see upcoming events or more announcements in parish bulletin.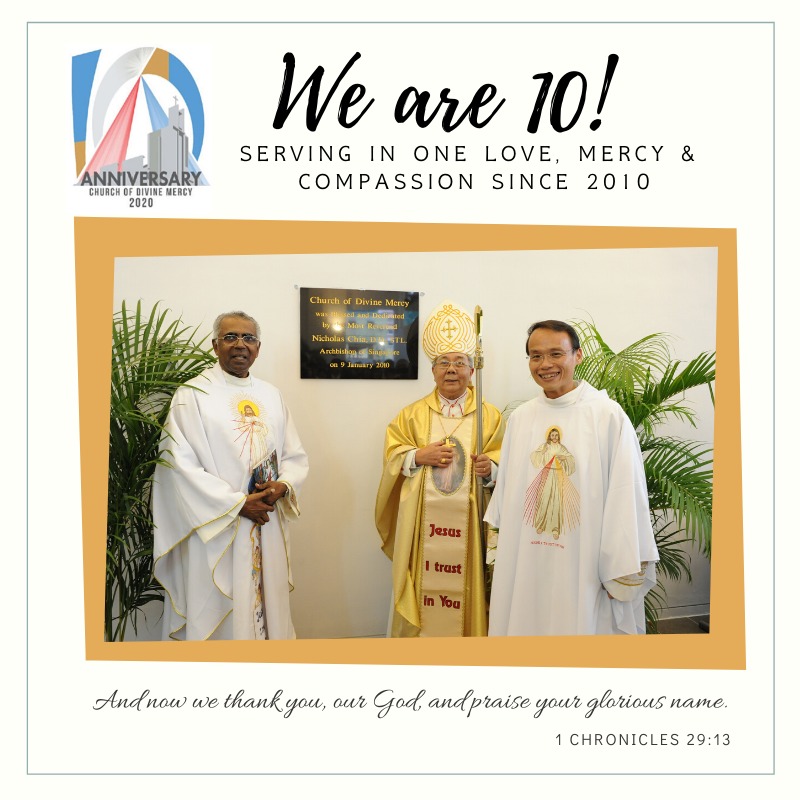 10th Anniversary Celebrations
We have commenced our 10th Anniversary celebrations on the weekend of 11/12 January 2020, the Baptism of the Lord.
"Let us be the protectors of creation, protectors of God's plan inscribed in nature, protectors of one another and of the environment." POPE FRANCIS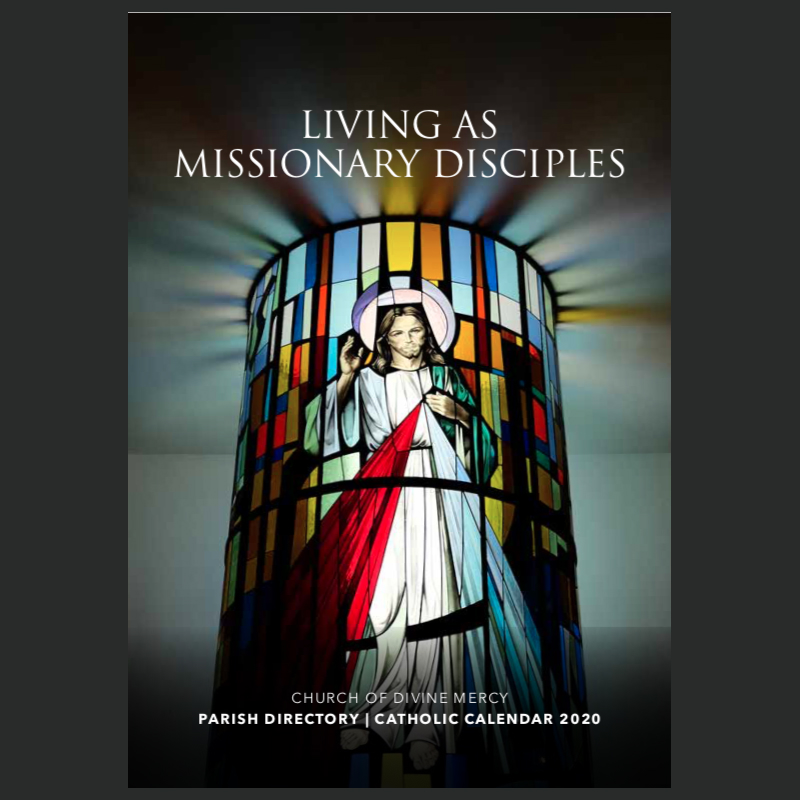 This directory provides us with all the information about our parish and the various parish ministries and communities.
Want to know more about Jesus?
If you are new or wish to rekindle your faith, click below!