4 Oct, Wed | After Evening Mass
Honoring Saint Francis of Assisi, the patron saint of ecology and animals
Venue: CDM Foyer
Time: After Evening Mass
Feast of St Faustina Mass Triduum
St Faustina, the Apostle of Mercy
When 2 Oct, Mon, 6:15pm Mass
Where Chapel
St Faustina, a Prophetic Voice to the World
When 3 Oct, Tue, 6:15pm Mass
Where Chapel
St Faustina, A Model of Trust in God
When 4 Oct, Wed, 6:15pm Mass
Where Main Church
Feast of St Faustina Mass
When 5 Oct, Thu, 6:30am and 6:15pm
Evening Rosary before Mass: 5:30pm
Chaplet Devotion after Mass: 6:50pm
Where Main Church for both Masses
First Friday Holy Hour
Come spend an hour in the presence of the Blessed Sacrament to adore our Lord.
When 6 Oct 2023 @ 6.45pm (after evening Mass)
Adult Confirmation
Adults who have not received the Sacrament of Confirmation are invited to register with the parish office. The Sacrament will be celebrated on 19 November at 5.30pm. For more details, contact the parish office.
Choral Music Ministry Concert
When Friday, 20 Oct, 8pm
Where Main Church
Tickets are free and may be collected from the choir booth at the foyer after all Masses this weekend. All are welcome.
CDM Cancer Support Group
First Friday Mass on Oct 6 will be celebrated for those with cancer and those journeying with friends or family members with cancer. Those who are in this group are invited to join us at the Mass and to continue to pray during the Holy Hour devotions.
For those interested to find out more about the CSG, please contact Louis Ng at 9733 0965.
Sale of Magnificat
The October issue of the Magnificat will be available for sale at the bookshop this weekend, 16 & 17 Sep.
St Martha's Canteen
St Martha's Canteen will resume its operation this Sunday, 17 Sep. Come savour the favourites of Mee Siam this Sunday!
GIFT Contribution
This weekend, being the 3rd weekend of the month, there will be a 2nd collection for Catholic Foundation's GIFT (Giving in Faith & Thankfulness) programme. Bring your contributions to drop them into the collection bags. Visit catholicfoundation.sg to contribute online or find out more.
Watchmen Retreat 2023
Led by the Episcopal Vicar for the New Evangelisation, Fr Terence Pereira, together with Gloria Patri Charismatic Ministry.

When: 2 to 6 Nov
Where: Majodi Centre, Taman Perindustrian Sri Plentong, 81750 Masai, Johor, Malaysia Retreat Fees $400 (Accommodation and meals are covered under the Retreat Fees)
Holy Land Lenten Pilgrimage
When: 23 Feb to 6 Mar 2024
Come experience this meaningful pilgrimage journey during Lent, led by Fr Joe Nathan, OFM Commissary of the Holy Land. Refer to the posters for details or contact Beatrix Bong (UOB Travel) @ 6252 6822.
Children of Praise
Come, join us for Praise and Prayer sessions every Thurs, 8pm in the Parish Hall (L2)!
Keen to Serve in the Communication Ministry?
If you enjoy writing, social media publishing, content creation and would like to put your skills and passion to serve the Lord, please contact communication@divinemercy.sg
33 Days to Merciful Love Group Retreat
Journey into the heart of St. Thérèse of Lisieux with this 6-week parish retreat.
Includes book, group discussions and talks on DVD by Fr. Michael Gaitley, MIC.
Register by 27 August 2023!
To enquire, contact Janet Chee @ 9782 6992.
When
Every Thursday 8.00pm – 9.30pm (31/8, 7/9, 14/9, 21/9 & 28/9)
Celebration Day: Thursday 5 Oct 2023, 6.15pm-9.30pm @ CDM
Where CDM or via Zoom
Cost $65.00 (for the participation pack)
Register https://tinyurl.com/33DaysMLR
Quieting the Soul - Chiangmai
At the Seven Fountains Retreat Center in Chiang Mai, Thailand. Three options (includes travel time):
1) 8 days – Nov 26 – Dec 5, 2023
2) 5 days – Nov 29 – Dec 5, 2023
3) 5 days – Dec 7 – Dec 13, 2023
Closing date: 15 September or when registration is full
Contact: 9298-5808 / 9722-3148.
Email: cenaclesingapore@gmail.com
Website: www.cenaclemission.com
Catholic Foundation Dinner
This annual fundraising dinner is hosted by His Eminence, Cardinal William Goh, Archbishop of Singapore. All funds raised from the dinner will go towards the building of the Catholic Hub.
Welcoming Home Catholics Seeking a Reconnection
Landings Singapore presents a new 10 week programme for Catholics seeking areconnection to the faith.
When 4 Sept 2023 – 14 Nov 2023 (Every Mon or Tues , 8pm to 10.00pm)
Where Church of the Holy Spirit or Church of Queen of Peace
For more info on Landings, email returning@landings.org.sg or visit www.landings.org.sg
Neighbourhood Christian Community (NCC)
The host dates and details have been updated for next month. Visit our NCC webpage for more information!
Recruitment of Altar Servers
The Divine Mercy Altar Servers (DMAS) is inviting boys aged between 9 and 14 (Levels 3 to 8) to join the Altar Servers.
The Altar Servers play a vital role in the Eucharistic Celebration by assisting the Priest on the altar at Holy Mass. The Altar Servers community also helps one another grown in faith through formation sessions and activities.
To register, complete the online form: https://tinyurl.com/cdmas2023
For enquiries, you may contact Dylan (92744968) or Samuel (88172707).
Join the Lectors' Ministry
Join the Lectors' Ministry if you like to share the joy of scripture with others. We need more lectors to proclaim for weekend and/or weekday masses. Training starts in June. Keen to serve and would like to know more?
Contact ✉ secretariat@divinemercy.sg
or
Call ☏ Margaret 91066088 /Dolly 96664622.
Mass Readings Explained - by Dr Brant Pitre
Mass Readings Explained is a weekly video presentation of the Sunday Mass readings by Dr Brant Pitre to prepare us for the weekend Mass.
Date: Every Wednesday, 8-10pm
Location: Parish Hall
Registration Link: https://tinyurl.com/MassReadingsExplained
Contact David Fong at fongdavidmatthew@gmail.com for more information.
Be Alert and Vigilant
The Parish Emergency Response Team (PERT) seeks the support of all parishioners to be ALERT and VIGILANT, as we go about our activities. If you see anyone behaving suspiciously or any belongings left unattended, please alert our Hospitality Ministry or any parish staff.
Security Announcement
For safety and security, the church gates will be closed at the following times:
– 9am on Public Holidays
– 9pm daily
Activities for Retirees and Elderly
Karaoke
When Every 1st Thurs from 3 – 5pm
Where St Faustina's Room
Bingo Afternoon
When Every 3rd Thurs from 3 – 5pm
Where Canteen
Healthy Ageing Promotion Programme for You (HAPPY)
HAPPY is a physical exercise programme for senior citizens to improve their mental well-being, memory, functional ability and strength. Participants simultaneously perform cognitive and physical "dual-task" exercises.
When Every Tuesday, 8.00 am – 9.00 am
Where Church Foyer
Contact Aloysius 9631 4782
Offerings & Church Building Fund
Mass Collection
PayNow : UEN T08CC4044K
Cheque: "Church of Divine Mercy"
Church Building Fund
PayNow : UEN T08CC4044KRBF
Cheque: "Church of Divine Mercy Restricted Fund"
Click the buttons to see upcoming events or more announcements in parish bulletin.
Archbishop William Goh Appointed to College of Cardinals
We are honoured that Archbishop William Goh is among the 21 new Cardinals appointed by Pope Francis at a Consistory on Saturday, 27 August.
"Let us be the protectors of creation, protectors of God's plan inscribed in nature, protectors of one another and of the environment." POPE FRANCIS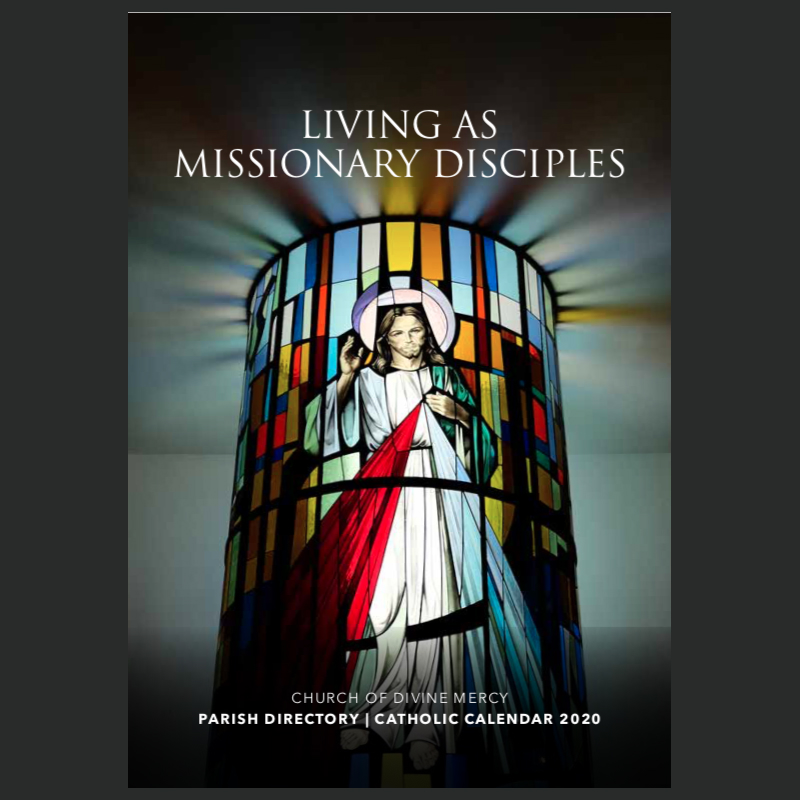 This directory provides us with all the information about our parish and the various parish ministries and communities.
Want to know more about Jesus?
If you are new or wish to rekindle your faith, click below!