Jesus and the Jewish Roots of the Eucharist
Video presentation by Dr Brant Pitre
7th JUNE, WEDNESDAY, 8PM
PARISH HALL, CHURCH OF DIVINE MERCY
No Registration Required
FATHER'S DAY MOVIE NIGHT
STRONG FATHERS STRONG DAUGHTERS
17 June Sat, 8pm, Parish Hall
No Registration Required
Organised by Catholic Watchmen
Children of Praise - 1 Jun to 20 Jul
The Children of Praise will be conducting 7 follow up talks from the LISS. We encourage all LISS participants to continue on your Life in the Spirit Seminar by attending these talks. All are welcome.

When Thursday,8pm
Where Chapel (B1)
June 1: JESUS CALLS YOU TO BE HIS DISCIPLE by Charles Lim (Member of Salt Charismatic Community)
June 8: YOU THEN ARE THE BODY OF CHRIST (COMMUNITY) by Sr Christine Santhou
June 15: YOU SHALL BE MY WITNESSES by Martin Fernandez
June 22: FRUITS OF THE HOLY SPIRIT by Philip Kok
July 6: GIFTS OF THE HOLY SPIRIT PART 1/3 by Gerard / Jessica
July 13: GIFTS OF THE HOLY SPIRIT PART 2/3 by Gerard / Jessica
July 20: GIFTS OF THE HOLY SPIRIT PART 3/3 by Gerard / Jessica
Jesus and the Jewish Roots of the Eucharist - 7 Jun
Video presentation by Dr Brant Pitre
Explore the Eucharist as the New Passover, the New Manna from Heaven and the mysterious New 'Bread of the Presence', and deepen your faith in and understanding of the Eucharist.

When 7 June, Wednesday, 8pm
Where Parish Hall
Overnight Adoration of the Blessed Sacrament - 9 Jun
Join our Overnight Adoration as we prepare ourselves for the Feast of Corpus Christi.
When 9 Jun (Fri), After the 6.15pm Mass till 10 June (Sat), 6am, followed by morning Mass.
Where Chapel (B1)
Note: No first Friday Holy Hour for June. The EMHC will also be commissioned during Corpus Christi Sunday 5.30pm Mass.
Congratulations!
Infant Baptism - 11 Jun
Infant baptism by immersion will be held on 11 June (Sun) at the 11.30am Mass.
Movie Night - 17 Jun
The Catholic Watchmen are organising a movie night in celebration of Father's Day. Come as a family to enjoy this funny, heartwarming movie, 'Strong Fathers. Strong Daughters.'
When: 17th of June, 8 pm
Venue: Parish Hall.
No registration required
CHARIS Humanitarian Forum & Fair - 24 Jun
Caritas Humanitarian Aid & Relief Initiatives (CHARIS) is having their biennial forum and fair on 24 June (Sat), 9am-6pm at Catholic Junior College. For more info, visit charis-singapore.org/hff2023/
A Closer Walk with You
A Charity Walk With Family, For Families
For Families Join Catholic Family Life's (CFL) Virtual Charity Walk for Family Bonding, while helping to fund parenting and educational talks, counselling support and other initiatives by CFL to build strong families.

Jesus Encounter Retreat - 29 Jun - 2 Jul
Come and see (John 1:39) and experience the awesome love of the Father through a personal encounter with Jesus in the power of the Holy Spirit as He leads, guides, heals and restores.

When 29 Jun – 2 Jul (4 day stay-in retreat)
Where Catholic Spirituality Centre
Cost $320 (early bird special at $270 before 4 Jun)
Register https://bit.ly/cscjer-2
RCIA 2023 - 22 Jul
Experience the healing grace of God! Join us for our next RCIA journey starting 22 Jul 2023. All are welcome!
For more info, visit website here.
Prayer for Priests
Prayer for Priests has resumed in June, every Thursday at 5.15pm at the Chapel.
The Prayer for Priest (PfP) team is also looking for parishioners to lead the prayers. If you feel the prompting to help, come by on Thursday or contact Agnes (97112667) to find out more.
Daily Rosary in May
Organised by the Legion of Mary, in conjunction with the month of Mother Mary,the Rosary will be recited before Mass in May.
Weekdays • 5.30pm
Sunday • 8.30am & 11am
No Rosary on Saturday & Sunday evening as the Divine Mercy Chaplet will be recited.
Join the Lectors' Ministry
Join the Lectors' Ministry if you like to share the joy of scripture with others. We need more lectors to proclaim for weekend and/or weekday masses. Training starts in June. Keen to serve and would like to know more?
Contact ✉ secretariat@divinemercy.sg
or
Call ☏ Margaret 91066088 /Dolly 96664622.
Recruitment of Altar Servers
The Divine Mercy Altar Servers (DMAS) is inviting boys aged between 9 and 14 (Levels 3 to 8) to join the Altar Servers.
The Altar Servers play a vital role in the Eucharistic Celebration by assisting the Priest on the altar at Holy Mass. The Altar Servers community also helps one another grown in faith through formation sessions and activities.
To register, complete the online form: https://tinyurl.com/cdmas2023
For enquiries, you may contact Dylan (92744968) or Samuel (88172707).
Welcoming Home Catholics Seeking a Reconnection
Landings Singapore presents a new 10 week programme for Catholics seeking areconnection to the faith.
When 4 Sept 2023 – 14 Nov 2023 (Every Mon or Tues , 8pm to 10.00pm)
Where Church of the Holy Spirit or Church of Queen of Peace
For more info on Landings, email returning@landings.org.sg or visit www.landings.org.sg
Marian Pilgrimage to Korea - 1-9 Sep 2023
Join a 9D7N Marian Pilgrimage to Korea, led by Fr. Venus Colaco, from 1 to 9 Sep 2023 in conjunction with the Novena to the Nativity of the Blessed Virgin Mary! The trip will include visits to locations like Busan, Daego, Danyang and many other historic attractions steeped in Catholic tradition and will culminate at the Cathedral of the Virgin Mary of the Immaculate Conception in Seoul.
Contact Alycia (81010591) for details.
Neighbourhood Christian Community (NCC)
The host dates and details have been updated for next month. Visit our NCC webpage for more information!
Mass Readings Explained - by Dr Brant Pitre
Mass Readings Explained is a weekly video presentation of the Sunday Mass readings by Dr Brant Pitre to prepare us for the weekend Mass.
Date: Every Wednesday, 8-10pm
Location: Parish Hall
Registration Link: https://tinyurl.com/MassReadingsExplained
Contact David Fong at fongdavidmatthew@gmail.com for more information.
Security Announcement
For safety and security, the church gates will be closed at the following times:
– 9am on Public Holidays
– 9pm daily
Be Alert and Vigilant
The Parish Emergency Response Team (PERT) seeks the support of all parishioners to be ALERT and VIGILANT, as we go about our activities. If you see anyone behaving suspiciously or any belongings left unattended, please alert our Hospitality Ministry or any parish staff.
Activities for Retirees and Elderly
Karaoke
When Every 1st Thurs from 3 – 5pm
Where St Faustina's Room
Bingo Afternoon
When Every 2nd and 4th Thurs from 3 – 5pm
Where Canteen
Healthy Ageing Promotion Programme for You (HAPPY)
HAPPY is a physical exercise programme for senior citizens to improve their mental well-being, memory, functional ability and strength. Participants simultaneously perform cognitive and physical "dual-task" exercises.
When Every Tuesday, 8.00 am – 9.00 am
Where Church Foyer
Contact Aloysius 9631 4782
Offerings & Church Building Fund
Mass Collection
PayNow : UEN T08CC4044K
Cheque: "Church of Divine Mercy"
Church Building Fund
PayNow : UEN T08CC4044KRBF
Cheque: "Church of Divine Mercy Restricted Fund"
This error message is only visible to WordPress admins Error: Access Token is not valid or has expired. Feed will not update.API error 100: Tried accessing nonexisting field (media_product_type) on node type (Media)Directions on how to resolve this issue churchofdivinemercy We invite you to prepare for Sunday Mass by readin Instagram post 17876694509886490 Instagram post 17878054241869422 In conjunction with the 57th World Communications
Click the buttons to see upcoming events or more announcements in parish bulletin.
Archbishop William Goh Appointed to College of Cardinals
We are honoured that Archbishop William Goh is among the 21 new Cardinals appointed by Pope Francis at a Consistory on Saturday, 27 August.
"Let us be the protectors of creation, protectors of God's plan inscribed in nature, protectors of one another and of the environment." POPE FRANCIS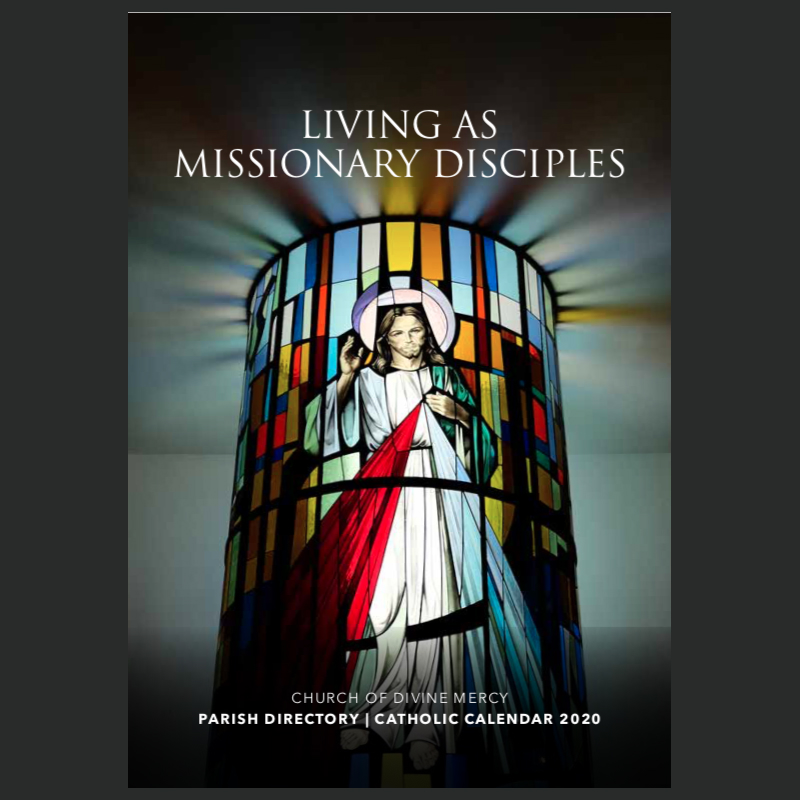 This directory provides us with all the information about our parish and the various parish ministries and communities.
Want to know more about Jesus?
If you are new or wish to rekindle your faith, click below!