Bookings for November is available from Noon on 27 October.
Parishioners are required to book their Mass slots on mycatholic.sg. Please see details in the announcements below. 
Mass Timings
Sat: 0800, 1730hr
Sun: 0700, 0900, 1100, 1300, 1730hr
Weekdays: 1230, 1815hr
Public Holidays: 0800hr
Bookings of Masses @CDM
Mass times are as follows:
Saturdays   8.00am, 5.30pm
Sundays   7.00am, 9.00am, 11.00am, 1.00pm, 5.30pm
Monday – Friday   12.30pm, 6.15pm
Public Holidays   8.00am
Tagalog Mass 1 & 21 Nov 7.30pm [NEW]
Bookings for Mass for November [UPDATE]
Opens on 27 October (Tuesday from 12.00pm. Our parish will be able to accommodate 100 pax at all Masses (Weekday & Weekend) in November.
Parishioners are reminded to register for Mass before heading down to the church:
(i) Registration of Parish at myCatholic.sg/register
Please register with only ONE church during this time. Registration must be completed before booking of Masses.
(ii) Booking of Masses at myCatholic.sg
Parishioners may book the 2nd weekend Mass from the 2nd Tuesday of every month, 9am onwards (subject to availability).
Only parishioners who have booked for the Mass will be allowed to attend Mass. Bookings will close 48 hours before the Mass. Please note that currently the Mass allocation is only one slot per month.
Church Entry Guide
Check out the video guide here.
For enquiries and feedback, please email mycatholicsg@catholic.org.sg.
All Weekend & Weekday Masses - Increased to 100 pax
We are delighted to welcome up to 100 persons at every weekend Mass from 17 October. In line with MCCY's guidelines, you will experience some changes in processes and seating arrangements.
We seek your kind understanding as our hospitality ministers and volunteers ensure these procedures are adhered to so as to abide by guidelines provided with minimal inconvenience to all parishioners. We thank you in advance for your support
Holy Rosary Month
In conjunction with the month of the Holy Rosary in October, online rosary is available on CDM Youtube at 8am daily.
Daily Divine Mercy Devotion
Join us daily at 3pm, the hour of mercy, for the Divine Mercy Devotion and Reflection of St. Faustina's Diary, on CDM YouTube Channel.
Our Chapel Will Be Closed
Our Chapel wil be closed due to the Addition adn Alteration works.
Online Catechism Sessions
Catechism seession for all levels resume this weekend.
Primary Level: Online session link will be sent to parents every Friday via WhatsApp
Secondary Level: Level 7 & 9; Online Session will be conducted via Zoom. Individual Class caechist will update parets on session times
Level 8: The online link sessions will be sent to parents every Friday via WhatsApp. All links will be available at www.tinyurl.com/cdmcatonline
Registration for 2021 Catechism Sessions
Registration
 for 2021 Catechism sessions are open. Parents may obtain registration forms via the parish website
https://tinyurl.com/cdmregister
 or at the Parish Office. Please email the completed form and a copy of your child's baptism certificate to catechism@divinemercy.sg. You may also submit the completed form to the Parish Office. 
Existing students need not re-register. 
Offerings & Church Building Fund
#1 PayNow
Mass Collection UEN: T08CC4044K
Restricted Building Fund UEN: T08CC4044KRBF
#2 Cheque
Make cheque payable to: Church of Divine Mercy or Church of Divine Mercy Restricted Fund 
Certificate in Theology
CTIS is holding several modules for the Certificate in Theology Programme. More info on the various modules can be found on www.ctis.sg. An information night will also be held on 5 Nov at 8pm.
Please register by
Calling 6902 8700 or E-Mail admin@ctis.sg
Click the buttons to see upcoming events or more announcements in parish bulletin.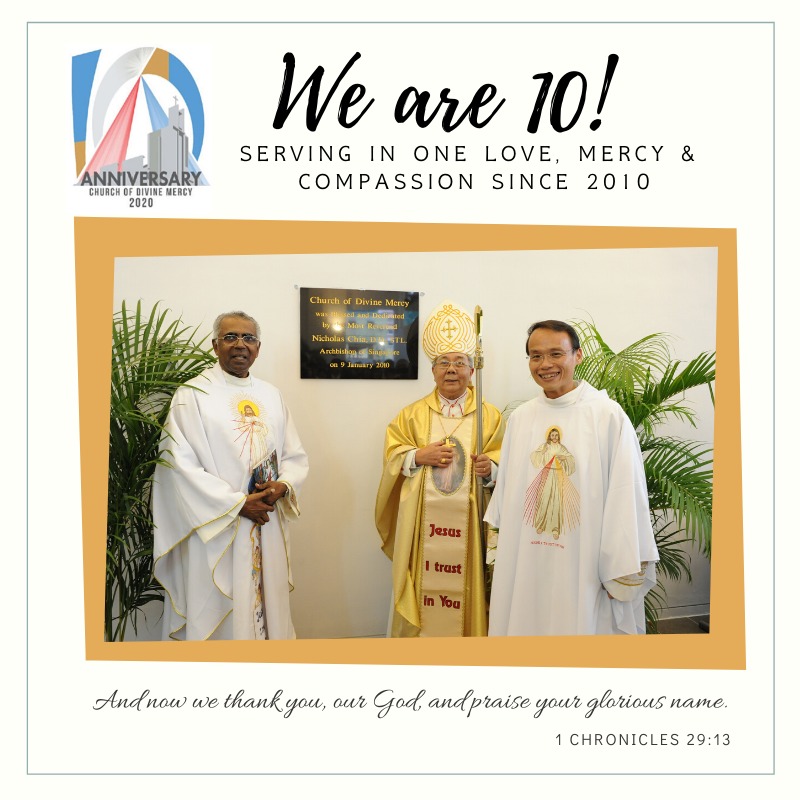 10th Anniversary Celebrations
We have commenced our 10th Anniversary celebrations on the weekend of 11/12 January 2020, the Baptism of the Lord.
"Let us be the protectors of creation, protectors of God's plan inscribed in nature, protectors of one another and of the environment." POPE FRANCIS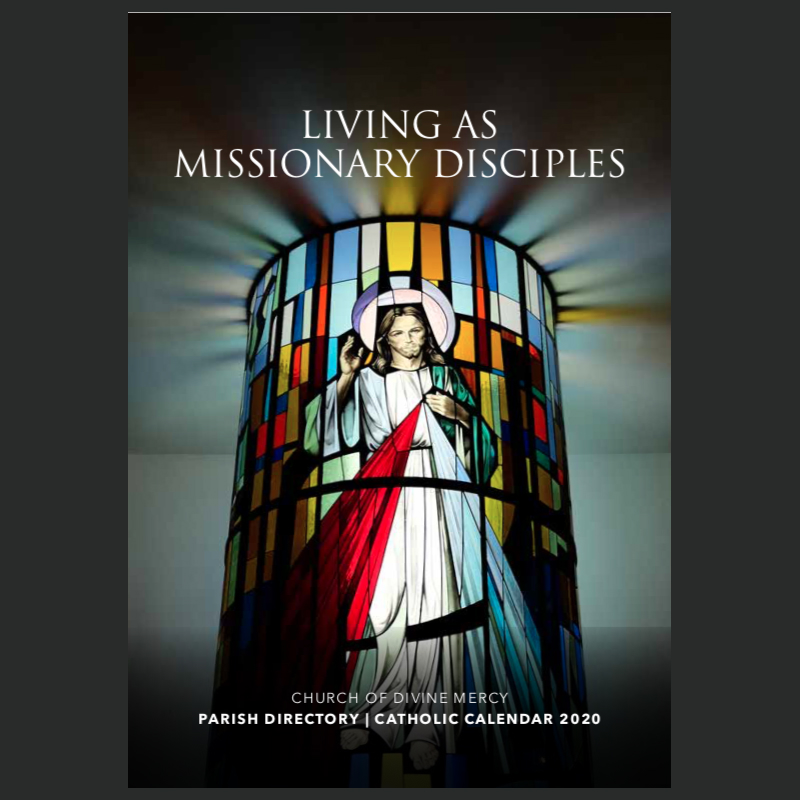 This directory provides us with all the information about our parish and the various parish ministries and communities.
Want to know more about Jesus?
If you are new or wish to rekindle your faith, click below!