You shall love the Lord, your God, with all your heart, with all your soul, and with all your mind. You shall love your neighbour as yourself.
Go, therefore, and make disciples of all nations, baptizing them in the name of the Father, and of the Son, and of the Holy Spirit, teaching them to observe all that I have commanded you.
For all parishioners to experience God's merciful love and to be witnesses of His unfailing love and boundless mercy to all.
DISCIPLESHIP
We believe the Bible is the inspired, infallible Word of God. Our preaching strives to break open the relevance of the Bible to our daily lives as disciples of Christ. Changing and growing into the likeness of Christ is not just about greater knowledge of our faith, it's doing what God's word says we must to do. 
We value life change.
FELLOWSHIP
We believe that our Baptism forms us into a family that is constantly nourished and renewed by all the sacraments, which teach us to love one another as Christ loved us. We strive to build a church culture through small groups where people are open and authentic, especially about their need to grow and change.
We value doing life-change together.
SERVICE
We believe that the Holy Spirit has empowered us to do the work that will advance the kingdom of Christ. We recognize God's call to our church to serve both within our parish and also beyond: In our city state, and in the world. In the service of the Lord we can always do more.
We value that challenge.
EVANGELIZATION
We believe that Jesus came to seek and save the lost. We heed God's command to share his name with the world. We look for the opportunity to invite lapsed Catholics to join us. As a parish church, we want insiders to reach outsiders.
We value growth and personal spiritual health.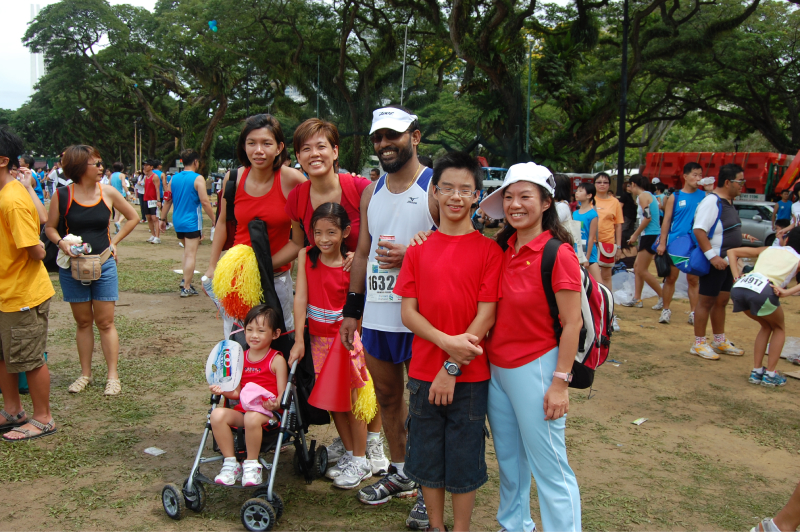 Great was our joy when our Archbishop, Nicholas Chia announced sometime in 2003 that we had obtained a site at to build a new church for the Catholics in Pasir Ris-Loyang. Church of Holy Trinity in Tampines was already bursting at its seams. The land given was only 3000 sqm but we were very happy.
The Church Building Committee worked hard to review the many designs and proposals submitted. Finally, a proposal had been chosen and the Committee had its first glimpse of how the future Church would look like. Meanwhile, Our Lord had revealed, through active participation of Catholics in Singapore, that by sheer "popularity", His new Church would be called Church of Divine Mercy.
Not without its many challenges, we finally had our ground breaking ceremony on 10 February 2007.  The ceremony was graced by Archbishop, Nicholas Chia, D.D., STL, who was very ill during that period but had nonetheless braved the very hot afternoon to break the first stone.
Like the Jews in exile, our patience was constantly tested as the project was wrought with many problems; the biggest being delays in construction work, burgeoning expenses and dwindling funds. Soaring steel and material costs have impacted our initial budget of S$8m. Site work had to be stopped on many occasions in hope that the situation would recover.
I have run the good race, I have kept my faith
And run we did! We decided we need to go on high gear to shore up our funds and not let our spirits be whittled during the final stretch of this long marathon. Who better to motivate us in our final dash than Father John Bosco, the former priest of Church of Holy Trinity, who stuck his hand up to say "I am going to run the Singapore Marathon (Dec 08) to raise funds for Church of Divine Mercy". And what fun we had! The community banded together to rally Father Bosco and through his (and the Divine) effort, about S$200,000 was raised!
Building a Church, building a community
The subtleness of how our Lord prolonged the completion of the project gave our community more time to bond. In the Christmas of 2008 and Chinese New Year of 2009, the community brought cheers to the foreign workers who have toiled hard on the project.
We went to various parishes for "road shows" to raise funds, whilst Father Johnson delivered his often-repeated homilies!
Our "Walk with Me" Fund Raising walk and family on 10 August 2009 was a great success. It really bonded the community together!
 The parishioners of the Church of the Holy Trinity supported us tremendously through their generosity during their Feast Day. We were welcomed to raise funds at various parishes.
The Joys of a New Born. Our humble Church @ Hai Sing
 Although the physical Church was not ready, our community, the real Church, was brimming with energy, enthusiasm and zeal. We recount the joy we felt when we commenced our first mass at Hai Sing Catholic School on 18 April 2009.
Our mass at Hai Sing was simple, yet dignified. In the humble setting of just chairs and a simple altar in the school hall, the community participated fully in the celebration and the joy was palpable on everyone's faces.
Finally, in the afternoon of 11 Dec 2009, we got the news that we had obtained the Temporary Occupation Permit and that we could start worship! We announced the good news through sms, e-mails and excited phone calls that we will celebrate our first mass on 12 / 12! Like receiving the news of a new born, our hearts leapt for joy that afternoon! The Church of Divine Mercy was finally ready to open its doors.
Dedication & Blessing of CDM 9 Jan 2010 A week of celebration
Father Piotr Prusakiewicz from Poland brought with him the relic of Saint Faustina, the patron saint of Divine Mercy. For three nights, Fr. Piotr led the congregation through devotions to the Divine Mercy and Mass to prepare the community for the Dedication and Blessing of CDM.
The highlight was the Dedication and Blessing of our Church on 9 January 2010. Mass was celebrated by His Grace, Nicholas Chia and what a turn out it was at CDM! Our Church was packed to the brim. We will always cherish our wonderful journey and there was no doubt that He was always walking with us. God bless our Church and our people.