The message of The Divine Mercy is simple. It is that God loves us — all of us. And, he wants us to recognize that His mercy is greater than our sins, so that we will call upon Him with trust, receive His mercy, and let it flow through us to others. Thus, all will come to share His joy.
The Divine Mercy message is one we can call to mind simply by remembering ABC:
God wants us to approach Him in prayer constantly, repenting of our sins and asking Him to pour His mercy out upon us and upon the whole world.
God wants us to receive His mercy and let it flow through us to others. He wants us to extend love and forgiveness to others just as He does to us.
C – Completely Trust in Jesus
God wants us to know that the graces of His mercy are dependent upon our trust. The more we trust in Jesus, the more we will receive.
Listen to the song "Eternal Comfort"  
St Faustina serves as a constant reminder of the message to trust in Jesus' endless mercy, and to live life mercifully toward others. We also turn to her in prayer and request her intercession to our merciful Saviour on our behalf. The following prayer may be included along with the devotion to the Divine Mercy:
"St Faustina, You told us that your mission would continue after your death and that you would not forget us. Our Lord also granted you a great privilege, telling you to "distribute graces as you will, to who you will, and when you will."
Relying on this, we ask your intercession for the graces we need, especially for the intentions just mentioned. Help us, above all, to trust in Jesus as you did and thus to glorify His mercy every moment of our lives. Amen"
The Gift of the Divine Mercy Shrine!
It is with great joy that we unveil the Divine Mercy shrine on this great feast of Divine Mercy on 11 Apr 2021!
The motivation behind creating a niche was through the observation of many devotees congesting the side aisle of the Church. The new decorated alcove for the Divine Mercy offers an oasis for silent prayer and contemplation for devotees.
Above the shrine is a proclamation that Jesus is the King of Mercy, completed with two side panels with gold leaf finishes and the two side niches holding the St. Faustina and St. Pope John Paul II reliquaries.
This idea and inspiration came from Melvin Gamayot, our very own parishioner, an architect and Chair of our A&A Building Works.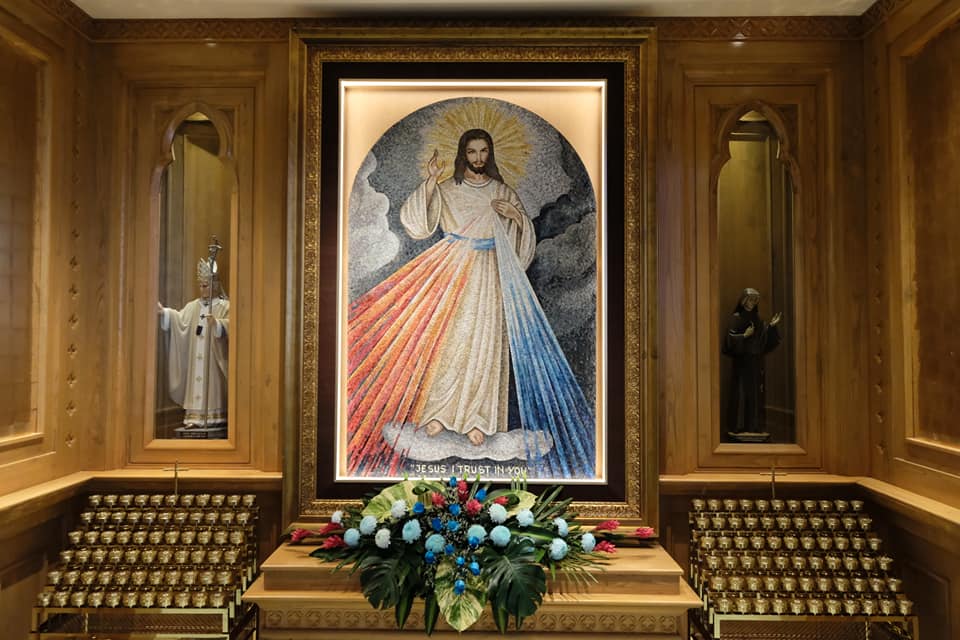 The decorated panels are crafted from high quality solid sungkai wood. Some parts are handcrafted to resemble gothic motifs, such as the quatrefoil as loaves which symbolizes the salvation, forgiveness and freedom God gave us.
The entire cost of the wooden panelling including the candle stands is donated by Dianne Joanna Cheong.
Click the image below to learn more.
Parish Divine Mercy Apostolate
The Feast of Divine Mercy
Saint Maria Fautina Kowalska