25th December is not only a reminder to the world of the birth of Jesus of Nazareth, but also his great contributions to the history of humanity. As we celebrate his birth, we are reminded of what his whole life, deeds and words symbolise and mean for every man and woman of good will.
The entire life and work of Jesus of Nazareth contains an invitation to all human beings to build a better world through recognising that we are children of the same God – a good, compassionate and merciful Father. By recognising so, we can achieve the happiness we all long for by loving, serving, forgiving, sharing and understanding each other.
The invitation of Jesus of Nazareth is therefore a call and challenge to the entire world to make our existence on earth a kinder place for every human being – against all forms of selfishness, injustice, discrimination, violence and death.
The celebration of Christmas presents us with the perfect opportunity to focus on humility and poverty. We are constantly reminded about the ways of the world – to protect ourselves selfishly and rise above others. However, the celebration of Christmas reminds us of the Nativity scene in Bethlehem – of humility, total giving of one's life, service to others, love and the way of the cross.
The celebration of Christmas is therefore a reminder of the truth – God cares about humanity and everything that is deeply human.
As we celebrate Christmas, let us be reminded of the call of Jesus – to construct a life where we can love one another absolutely, just the way God loves us.
Simbang Gabi Celebrations (15 – 23 December)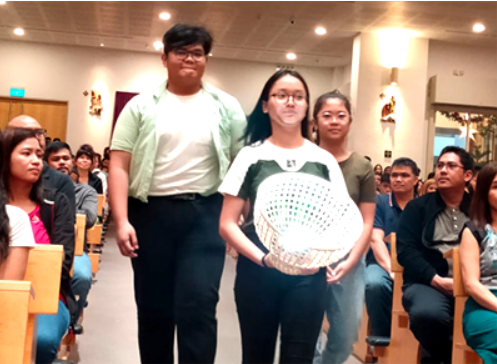 We are into the last few nights of Simbang Gabi, a novena consisting of nine consecutive nights of masses before Christmas! A tradition celebrated by our Filipino community has also been well-attended by non-Filipino Catholics, each night ending in food and fellowship. We thank Father Rommel H Anico, our parish priests, liturgical ministries and our Filipino community who have helped make Simbang Gabi meaningful!